The climate movement won big at the ballot box in 2023!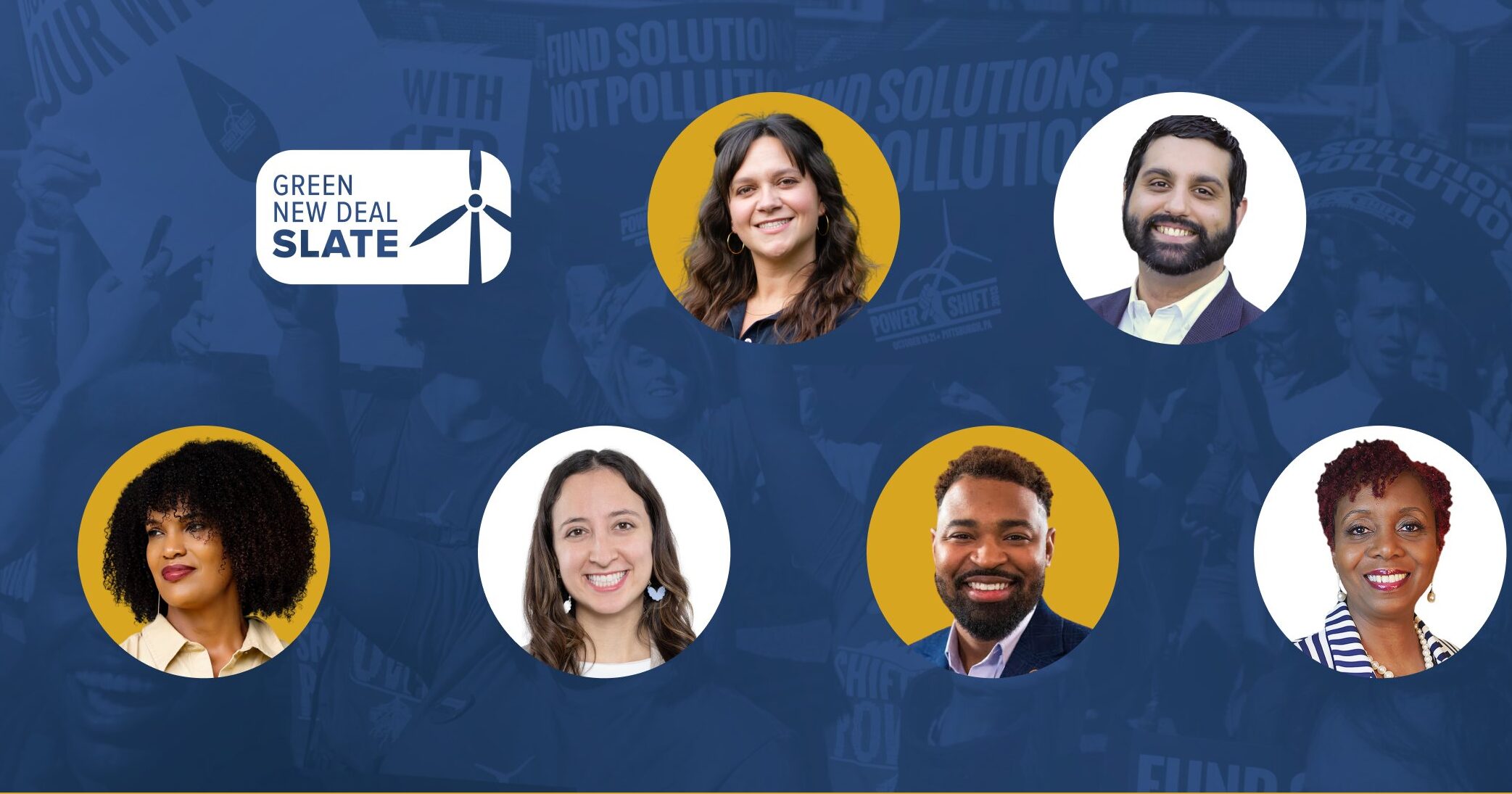 There were some big wins for climate leaders down ballot yesterday – from Virginia's state legislature to city councils and mayor's offices across the country!
We wanted to share some highlights and trends from our Green New Deal slate that show the progress the climate movement has made at the ballot box locally this year!
1 – Virginia!
Not only did Dems win both the Senate and Assembly which will protect abortion access and climate wins – both also have a stronger majority of progressives willing to stand up to the state's corrupt utility Dominion.
With those majorities, Republican Governor Youngkin will NOT be able to roll back abortion access and also won't be able to face majorities that will fight back against anti-climate measures he's threatened like taking the state out of the Regional Greenhouse Gas Initiative, repealing a law requiring the state hit 100% clean energy by 2050, or repealing the requirement that all car sales be electric by 2026. The election is seen as a bellwether for 2024's presidential election, and could set the stage for a possible Dem trifecta in the 2025 gubernatorial election.
Not only did Dems take both houses, but the primaries led to a higher percent of them being younger, more diverse, and (critically) proponents of regulating the state's utility Dominion which has given heavily in recent races to block action towards clean energy. There are now 41 Delegates of 51 and 14 Senators of 21 who reject funding from Dominion – up from only 3 Delegates in 2018! Of those Senators, 11 will be newly elected with this election or within the last year!
We backed 18 candidates in VA's elections this year – and in the races that were competitive for the general, our priority candidate Joshua Cole won last night! When he was last in office, he was a climate movement leader who led the fight against the Mountain Valley Pipeline, fought the state's utility, and co-introduced the VA Green New Deal.
2 – Climate mayors won!
Candidates across the country are running to lead their cities with platforms that explicitly tackle the climate crisis by ensuring the city moves to 100% clean energy or investing in environmental justice, public transit, and climate resiliency. Regina Romero won reelection in Tucson against a conservative push to unseat her. She's been a critical voice for climate action and mitigation as the mayor of the US's fastest-heating city by declaring a climate emergency, committing the city to achieving carbon neutrality by 2030, and rolling out a heat mitigation plan that keeps residents cool in the hottest months. Shammas Malik has won in Akron where, as a vocal critic of the state's scandal-prone utility, he'll be able to push to update the city's energy & emissions reductions plan for the first time in a decade. A major win for PA's progressive movement, Sara Innamorato won as Allegheny County Executive in PA where she'll lead a progressive majority that can protect a fracking ban and invest in clean energy jobs. Freddie O'Connell had already won as Mayor of Nashville as the progressive option focused on investing in public transit and clean energy. Lisa Brown's race to be Mayor of Spokane has not been called yet, but she seems likely to win in a race that the natural gas industry spent against to block building decarbonization efforts.
3 – Environmental justice leaders won in their communities!
With new federal funds headed to cities through the Inflation Reduction Act to tackle environmental injustice, we wanted to back several candidates running to fight for such action in their communities. Annette Blackwell won reelection as Mayor to ensure her city Maple Heights (OH) receives Justice40 funding to tackle local pollution. Dejuana Bigelow ran and won a seat on Burlington's City Council (NC) to fight back against the extension of the Mountain Valley Pipeline (MVP) into her community. Local EJ organizer Juan Jaramillo won in Revere (MA) where he'll tackle air pollution from the airport, and we're closely watching Pearl Walker's runoff for Memphis City Council (TN) next week where she has long organized for energy justice.
4 – City Councillors fought back against the gas industry!
The natural gas industry has led a well funded offensive against new measures requiring homes move off fossil fuels alongside utilities reticent to invest in necessary measures to decarbonize our homes. While we don't know the official results of either city yet – the industry has spent big in Eugene, OR and Spokane, WA in order to avoid regulation. Candidates like Lyndsie Leech in Eugene and Lisa Brown, Lindsey Shaw, Paul Dillon, and Kitty Klitzke in Spokane are fighting to ensure their cities can mandate the electrification of new residences.