Fall 2023: Green New Deal Down Ballot Slate!
If we're going to tackle the climate crisis, we need states and cities to step up to the plate and take bold measures towards clean energy & environmental justice.
It's been harder than ever to ignore the climate crisis this summer: the tragic fires in Maui, the smoke from Canada's endless forest fires, the flooding across the Northeast. These events make it even clearer: we need political leaders who are committed to act urgently and at the scale of the threat. We need mayors who are preparing their city for the summer's heat, state legislators who are already drafting their next renewable energy bill, & county commissioners who'll stand against the fossil fuel industry. And most of all, we need to get them in office and get to work ASAP.
At Lead Locally, we work with community groups to find some of the strongest candidates for renewable energy, environmental justice, and the fight against the fossil fuel industry in cities and state legislatures across the country – and make sure they have the tools & resources they need to win.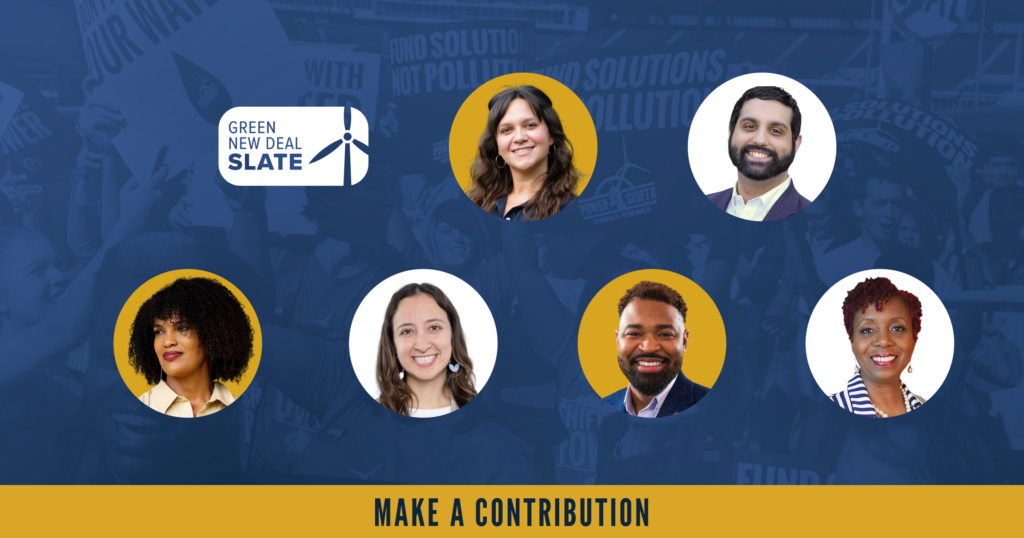 Here's who we're backing this fall:
Tucson, Arizona: In one of the fastest-heating cities in America, Mayor Regina Romero has already made her mark by declaring a climate emergency and committing the city to achieving carbon neutrality by 2030. Romero has also rolled out a heat mitigation plan that keeps residents cool in the hottest months and protects the city's water resources, and made Tucson a model for climate resilience in the Southwest and nationally in the process.
Aurora, Colorado: Councillor Juan Marcano is running for Mayor of Aurora to bring his climate leadership to the next level. As a city councilor he's led the fight to transition to renewable energy, but his climate plans have been blocked by the current mayor. He is challenging the current Republican mayor with a climate plan that would form the city's first climate office, incentivize denser and more affordable housing, and expand public transit.
Louisiana's river parishes are at the center of the climate crisis, they both feel the impacts of major storms and hurricanes, and the pollution from oil, gas and petrochemical projects is so bad in Black communities that it's been labeled "Cancer Alley." Community organizers are fighting back and envisioning a new, cleaner economy for their parishes. In St. John the Baptist Parish, Joy Banner is running for Parish Council to support healthier industry in the region like clean energy jobs, and to regulate pollution affecting her community. Banner has worked as the Communications Director at the Whitney Plantation where she helped the site become nationally recognized for telling the stories of enslaved families, and founded a group called the Descendants Project to support descendants of enslaved families along the river parishes.
Massachusetts:
Marlborough: Councillor Samantha Perlman is running for Mayor with the backing of local environmental organizations and a plan to make use of IRA funds to help her city transition to renewables and invest in heat resilience.
Holyoke: Community organizer Guy O'Donnell is running again for City Council after losing by only 17 votes last time. The incumbent has voted against a state-provided clean energy grant and tried to gut the city's community preservation act program, which funds the preservation of a forest in the district. O'Donnell is running on a plan to use federal and state money to support the city's move to clean energy, and tackle emissions from its housing.
Revere: The former Political Director of the Environmental League of MA Juan Jaramillo is running for City Council with a plan to regulate air quality concerns exacerbated by the nearby waste incinerator and airport, as well as support local clean energy initiatives.
Taunton: Many of Massachusetts's cities regulate their energy through municipal utilities that make up almost 15% of the state's electricity generation. A local climate activist, Jonathan Gray would be a major voice for equitable clean energy programs at the Taunton Municipal Lighting Plant Commission, exemplified by his plan to provide 0% loans for its energy efficiency programs so low income residents can make better use of them.
North Carolina:
Burlington: Dejuana Bigelow is a community organizer and former owner of a local women's clothing store who is running for City Council to fight back against a proposed expansion of the MVP pipeline into North Carolina which would go through her city and threaten its drinking water.
Boone: Dalton George is a 23-year old former Down Home NC climate and housing organizer who won his seat and is running for reelection to Town Council. Hitting the city's clean energy and sustainability goals are a core part of his platform for this growing campus town – so it's imperative he's reelected and, if he wins most votes, potentially become the city's Mayor Pro Tem.
Durham: An organizer with NC's League of Conservation Voters, Khalilah Karim is running for City Council to ensure the city invests more in clean energy, parks, public transit, and bike lanes.
Virginia: In his first term as Virginia's governor, Republican Glenn Youngkin has made clear his opposition to climate action, reproductive rights, and voting access. This year's state legislative elections set the stage to expedite the state's renewable energy transition, ensure abortion access to Virginians, regulate the state's corrupt utility Dominion, and keep Virginia in the Regional Greenhouse Gas Initiative as the Governor fights to take it out. Here is who we're backing this November:
Joshua Cole for House District 65: A former state rep, Cole is a champion for the VA Green New Deal, the fight against the Mountain Valley Pipeline, and the struggle to regulate the state's corrupt utility. We're working to help him get back to the state assembly where he'll fight for climate justice & progressive change!
Nadarius Clark for House District 84: Clark began his activism after a KKK march disrupted his college's classes at an HBCU campus. He's been organizing on his campus and in his community for racial justice – and went to be elected as the youngest Democrat in the Assembly's history last cycle as part of our slate! He has been a critical voice for climate action, debt relief for working families, and addressing the black maternal mortality crisis – and we need to support him for re-election!
Lily Franklin for House District 41: As a former teacher and Chief of Staff for progressive Delegate Sam Rasoul, Franklin has been instrumental in writing and advocating for legislation that preserves VA's clean air and water, protects ratepayers from greedy utility monopolies, and halts unnecessary fossil fuel projects like the Mountain Valley Pipeline. We're so excited to help her cross the finish line and get into office herself!
Bishop Lacey for House District 64: Lacey founded and remains a pastor at United Faith Christian Ministry and will advocate for his community in office as a champion of environmental justice and clean energy jobs.
Kimberly Adams for House District 82: Adams has spent the last year serving as an auditor and accountant for the state of Virginia and plans to take those skills to office to advocate for clean energy, air and water – especially in protecting the James River and Chesapeake Bay.
Joshua Thomas for House District 21: A former Marine, Thomas is running in a critical swing seat to advocate for the state to provide incentives that allow for an equitable transition to clean energy, as well as being a staunch advocate for the LGBTQ community and veterans.
Jessica Anderson for House District 71: Anderson is a receptionist, runner, and mother who got her start in the public eye speaking about her views and family's struggles on TikTok, where she now has over half-a-million followers! She's running on climate to get Virginia off fossil fuels and protect her children's future.
Travis Nembhard for House District 22: Nembhard is an attorney and financial regulator who spent his career investigating corporate corruption and helping the DC Council promote clean energy and curb pollution as the legal counsel for its environmental committee. He wants to take his legal experience to the Assembly as an advocate for working families and climate action.
Utah passed the HB 411 Community Renewable Energy Agreement last year which allows City Councils to work with the state's utility to get to 100% renewable energy. In order for more cities to agree to that, we're helping elect:
Salt Lake City: Dan Dugan and Ana Valdemoros are running for reelection to City Council as key climate votes in support of expediting the city's renewable energy transition plan.
Murray: Adam Hock is a seminary teacher running City Council where he wants to work with the city's independent municipal utility to move to 100% clean power.
Tennessee
Nashville: As a Metro Council Member, software engineer Freddie O'Connell passed a set of city Green New Deal bills that have the city on track to have a fully renewable energy supply, zero emission fleet, and stronger green building standards than ever before. He's running for Mayor to get the city to 100% solar energy supply and go beyond that by building a larger public transit system.
Knoxville: Incumbent Amelia Parker and newcomer Cameron Brooks are running for City Council with the backing of local progressive organizations to build a majority on council that could improve and fund measures to hit the city's climate goal of reducing 80% of emissions by 2050.
Memphis: Pearl Walker has a long history of organizing to promote clean, affordable energy across the southeastern U.S. She's organized to stop the Byhalia oil pipeline, prevent coal ash trucks from traveling through her community, and fought back against utility rate hikes. She's running for City Council to bring her community organizing to city hall where she'll be a leader for climate and environmental justice.
Washington
Spokane: As the movement to get our housing off fossil fuels grows, the industry is taking note. Developers in WA's 2nd largest city tried to run a city ballot that would have blocked the city from taking action to ban gas hookups in new construction, and preempted the city from being affected by state legislation. Climate groups locally are working to not only elect climate progressives who will block that from happening again, but will also support the city's continued work to promote clean energy and environmental justice. We're backing longtime progressive advocate and former state Senate leader, Lisa Brown for Spokane Mayor – as well as state Planned Parenthood VP Paul Dillon, and local organizers Kitty Klitzke and Lindsey Shaw for Spokane City Council.
Vancouver: When Don Orange originally won his seat on Vancouver's Port Commission, his vote was able to block a massive oil export terminal from being built that residents had organized against for years. He's running to keep his seat and continue to fight for clean jobs at the port.
King County: On Seattle's City Council, Teresa Mosqueda has championed both labor and climate by leading on bills that move buildings off fossil fuels, create jobs in clean energy, support workers affected by the energy transition, and pass the the JumpStart Progressive Revenue bill that includes over 10 million dollars a year for Green New Deal priorities over the next 20 years. She's now running to build the bench of climate and labor advocates in WA's largest county.
Olympia: Maggie Sanders has worked for the Department of Natural Resources of the Nisqually Tribe and advocated for clean air legislation in the state and federally. She's running to be a voice for climate and labor on the Olympia Port Commission, one of WA's largest ports.
Allegheny County, Pennsylvania: Climate organizers fought for years to successfully pass a ban on fracking in one of PA's most populous counties by organizing and electing climate champs to the County Commission across several cycles. With the recent election of Sara Innamorato (from our spring slate!) as County Executive, Carl Redwood is running for County Council as a longtime labor and racial justice organizer in Pittsburgh to expand the Council's power to move towards clean energy, improve local air quality, and support labor.
New Jersey State Senate: Christine Clarke has organized for renewable energy and environmental conservation in New Jersey as the Environmental Director at Action Together NJ, a leader for the state's March for Science, and in countless other ways over her career. She's running in one of the state's most competitive Senate districts centering the need for NJ to do more to move to 100% clean energy.
Waterloo, Iowa: In Jonathan Grieder's time on Waterloo's City Council, he's been a leader in passing a Declaration of Climate Emergency and the city's first climate plan which moves the city to 50% emissions reductions by 2030 and 80% by 2050, as well as standing up for the city's LGBT community by championing a ban on conversion therapy. We're excited to endorse him to continue his work for equity and climate action in Iowa.
Eugene, Oregon: Lyndsie Leech, an incumbent climate leader on Eugene's city council, has championed the state's first citywide ordinance banning the use of natural gas in new residential construction. We're supporting her for re-election so she can continue to protect public health and electrify housing.